Yesterday was quite a day in the my world of charity crafting!



The pleater that WoolWinder soooooooo generously gave to me arrived. Thank you! Thank you! Thank you!! It looks brand new and is in great shape. It was her Mom's and used only a handful of times. I googled the name brand and I won't have any problems getting replacement needles. Again, your generosity is amazing and inspiring. Thanks so much!


Speaking of smocking, over the weekend I worked on this. I knew the pleater was in the mail and wanted to use up the 2 pieces that I already have pleated. I'll do this as a raglan sleeved gown, too. That leaves me one more and I think I'll picture smock it. I think I have a duck, train, plane, and maybe a couple more things appropriate for a baby.

Back to yesterday....I signed up a week or so ago to donate to Heavenly Angels in Need. A volunteer was listed in my area and I had hoped to make contacts and do some sewing with someone that has a passion for this like I do. That hasn't happened, yet, BUT another door has opened. Yesterday Mary posted on the forum asking for a volunteer to use a donated wedding gown to make bereavement gowns. Isn't that a neat idea?? So, I volunteered and one is on the way to me. Plus, Kristen, another HAIN member PM'd me saying that she wanted to donate her own personal gown. Wow!! I'd be absolute HONORED and hope that I can do it justice!

What else? Oh, Mom and Sue have another date set to speak to some ladies at a local church. They are scheduled for Oct 11th. I checked plane tickets as I had hoped to make a trip back home in October, but I can't find any deals right now. I would love be able to coordinate a trip with their meeting.

Oh, Oh, Oh.....I got the SWEETEST thank you note from the lady that I sent part of my Mom's stash of material. Remember me telling you about it? Not many people handwrite thank you notes anymore and that's a shame. Her group calls themselves Stitches of Love and makes various charity items including quilts and bags. If you have some old material that you do not want, send it to:
Helen Templin
245 Safford Mill Lane
Wildersville, TN 38338
It really touched me to receive a note from her complete with pictures.
Quilts sent to the babies at Jackson General Hospital in Jackson, TN


Zipper Bags for the VA Hospital in Nashville, TN.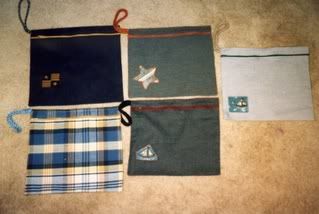 Ok, I'm off to run some errands, including a trip to the PO to mail the package to The Preemie Project and JoAnn's to look for some ribbon for the Halloween Outfits.